About Richmond, BC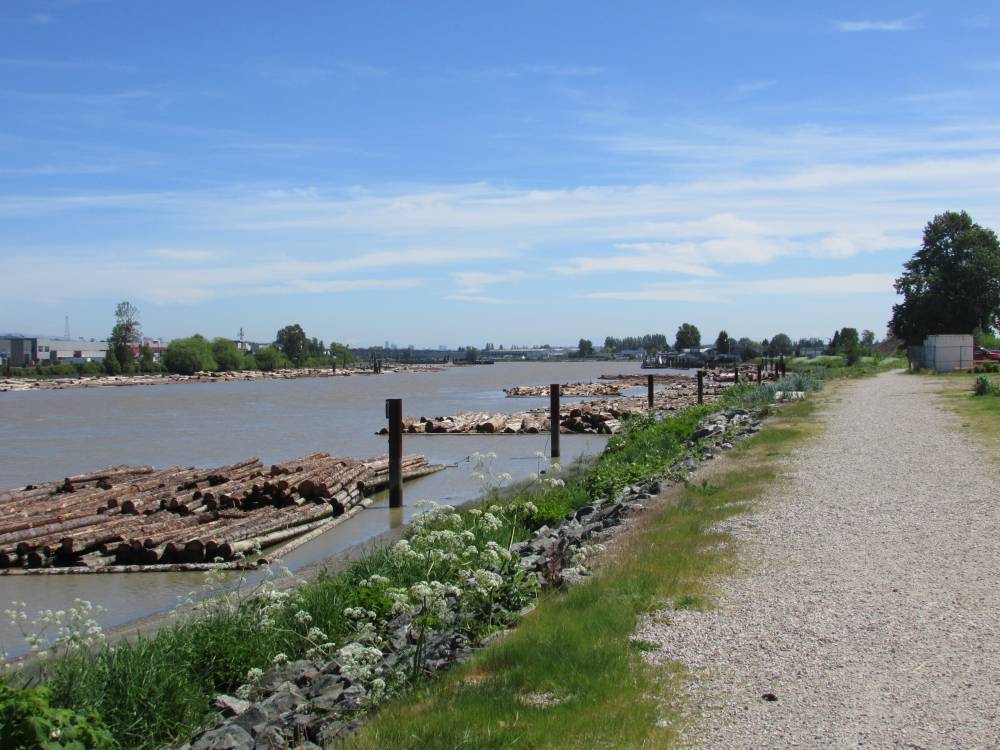 Richmond, BC is a unique island city located on Canada's Pacific Coast. It is conveniently located with quick access into Vancouver, South Delta, and New Westminster. It is home to the second busiest airport in Canada, the Vancouver International Airport, and more importantly, home to Your Awesome Realtors!
Geography: Latitude 49 10′ 59.1″ N & Longitude 123 8′ 0.7″ W
Elevation: Averages one metre above sea level
Area: 50.067 square miles; 129.666 square km; 32,043.477 acres
Richmond is a diverse and dynamic city, which has transformed from a suburban farm town to an urban centre. It is located where the Fraser River meets the Pacific Ocean and is made up of a unique mix of residential and commercial properties, agricultural land, industrial parks, waterways and natural areas.
The city is made up of 1950 acres (789 hectares) of park land, 73km of trails, and 60km of road cycling paths. There are 145 parks that provide sports and recreation amenities in each neighbourhood. Some of these amenities include, pools, arenas, community centres, golf courses, tracks and playing fields. Check out our neighbourhood guide below for more specific information on where these are all located.
Richmond Population
The population of Richmond is estimated to be 222,945. This has increased from 219,723 in 2017.  It is estimated that 18.2% of the population is 17 years of age or younger and 13% is 65 years old and over.
Health & Longevity
According to Statistics Canada, Richmond, BC is the city in Canada were residents have the longest life expectancy. They live on average 85.7 years, which is longer than the national average by over 4 years. If this isn't a great reason to move to Richmond, we don't really know what is!
Employment & Industry
The Richmond economy supplies over 126,000 jobs to the community. These jobs are in various sectors some of which include: service, retail, tourism, technology, light manufacturing, aviation, agriculture, finish and government.
Climate
Richmond has a mild west coast climate. It gets little to no snow. The average rainfall is 1112.6mm or 43.8inches which is 30% less than Vancouver. We think this may also be a contributing factor to having a longer life expectancy.
Richmond Neighbourhoods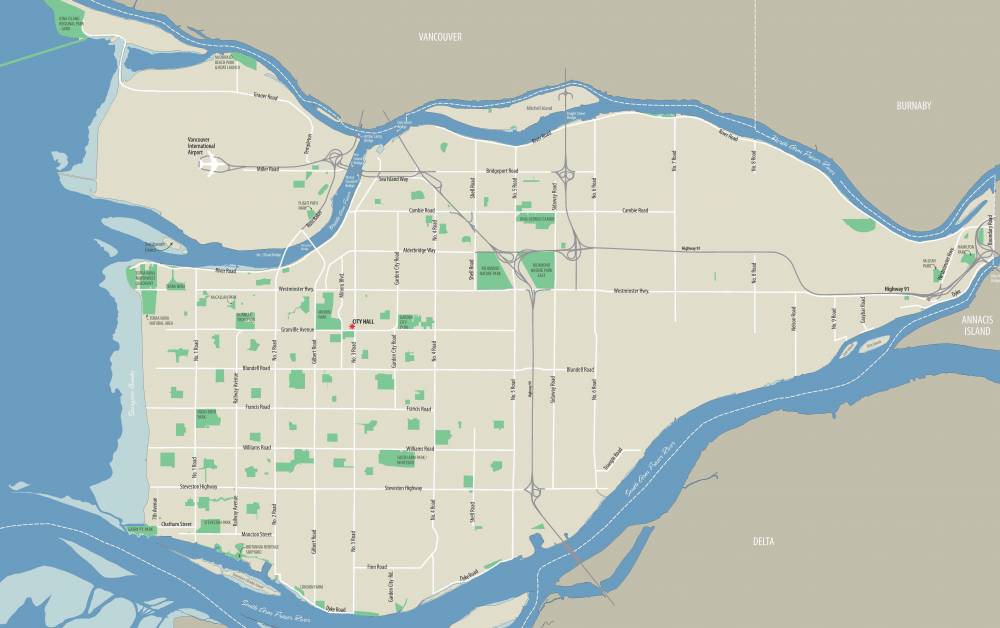 Boyd Park
Elementary School: R.M. Grauer Elementary
High School: Hugh Boyd Secondary
Recreation Centre: West Richmond Community Centre
Features: West Richmond Pitch & Putt Golf Course, Hugh Boyd Neighbourhood School Park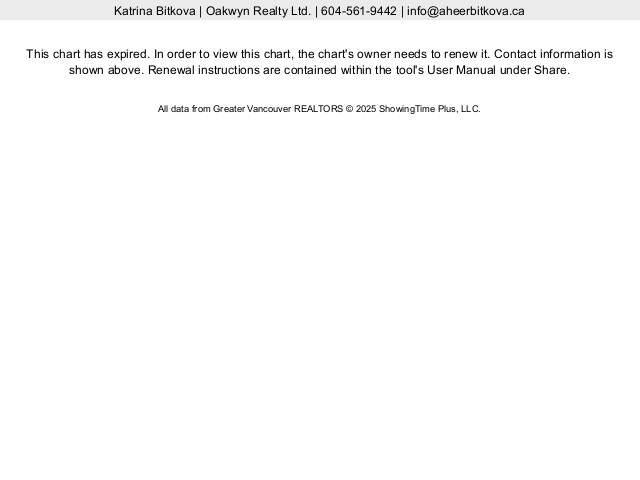 Bridgeport
Elementary School: Robert J. Tait Elementary School
High School: H.J. Cambie Secondary School
Recreation Centre: Cambie Community Centre
Features: Skytrain: Bridgeport, River Rock Casino Resort, Richmond Night Market, Easy Access to Vancouver via Oak Bridge, Canada Line Bridge, Bridgeport Recreational Trail
Brighouse
Elementary School: Samuel Brighouse Elementary
High School: Richmond Secondary School
Recreation Centre: City Centre Community Centre, The Oval, Minoru Aquatic Centre & Minoru Arenas
Features: Middle Arm Waterfront Park, Minoru Park, Richmond Centre, Richmond Public Library, Skytrain: Richmond Brighouse, Easy Access to Vancouver via Arthur Laing Bridge, Richmond Museum, Richmond Art Gallery, Richmond Arts Centre, Gateway Theater
Brighouse South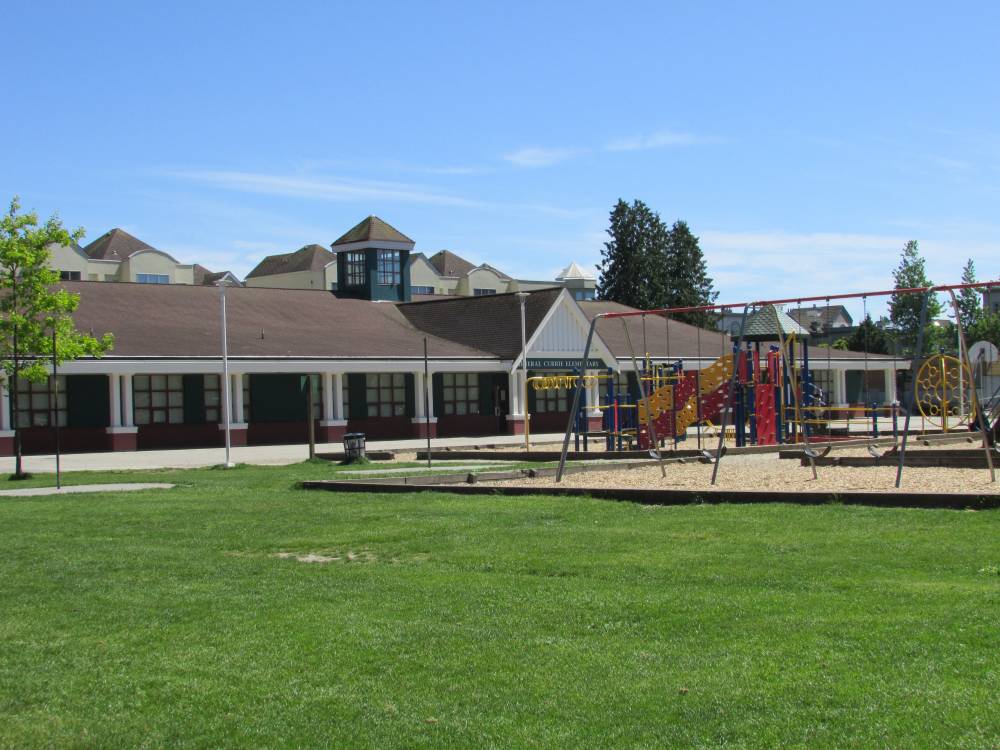 Elementary School: Ferris Elementary School or General Currie Elementary School
High School: Richmond Secondary School or R.C. Palmer Secondary School
Recreation Centre: City Centre Community Centre, The Oval, Minoru Aquatic Centre & Minoru Arenas
Features: Central Location, Easy Transportation Access, Walking Distance to Amenities, General Currie Neighbourhood School Park, Garden City Shopping Plaza
Boardmoor
Elementary School: Ferris Elementary School, John T. Errington Elementary, Maple Lane Elementary School, William Bridge Elementary, Walter Lee Elementary or Garden City Elementary School
High School: Steveston-London Secondary School, R.C. Palmer Secondary School or McRoberts Secondary School
Recreation Centre: South Arm Community Centre & Outdoor Pool
Features: Broadmoor Shopping Centre
East Cambie
Elementary School: Kathleen McNeely Elementary & Mitchell Elementary School
High School: H.J. Cambie Secondary
Recreation Centre: Cambie Community Centre
Features: King George Park, Richmond Public Library, Easy Access to Vancouver via Knight Bridge, Cambie Plaza, Greenacres Golf Course, Richmond Nature Park
East Richmond
Elementary School: Daniel Woodward Elementary or Kingswood Elementary School
High School: Matthew McNair Secondary School
Recreation Centre: Hamilton Community Centre, Richmond Ice Centre and Watermania
Features: Richmond Country Farm, SilverCity Riverport, Country Meadows Golf Course, Mayfair Lakes Golf & Country Club, LuLu Island Winery, Country Vines Winery, Richmond Go-Karts, Mylora Sidaway Golf Club, Savage Creek Driving Range
Garden City
Elementary School: Garden City Elementary School or Howard DeBeck Elementary
High School: R.C. Palmer Secondary School
Recreation Centre: South Arm Community Centre & Outdoor Pool
Features: Palmer Neighbourhood School Park
Gilmore
Elementary School: Maple Lane Elementary School or Thomas Kidd Elementary School
High School: Steveston-London Secondary School or Matthew McNair Secondary School
Recreation Centre: South Arm Community Centre & Outdoor Pool, Richmond Ice Centre and Watermania
Features: London Heritage Farm, South Dyke Recreational Trail, Horseshoe Slough Recreational Trail, Richmond Country Club
Granville
Elementary School: McKay Elementary School, Blundell Elementary or Samuel Brighouse Elementary
High School: Richmond Secondary School or Burnett Secondary School
Recreation Centre: City Centre Community Centre, Minoru Aquatic Centre and Minoru Arenas, The Oval, Olympic Experience
Feature:
Hamilton
Elementary School: Hamilton Elementary or Kathleen McNeely elementary
High School: H.J. Cambie Secondary
Recreation Centre: Hamilton Community Centre
Features: Mclean Park, Easy Access to Hwy 91 and New Westminster, Hamilton Plaza, Cranberry Child Centre
Ironwood
Elementary School: Kingswood Elementary School & Woodward Elementary School
High School: Matthew McNair Secondary
Recreation Centre: Richmond Ice Centre and Watermania
Features: Richmond Public Library, Easy Access to South Delta via Massey Tunnel, Ironwood Shopping Plaza
Lackner
Elementary School: McKay Elementary School
High School: Hugh Boyd Secondary
Recreation Centre: Minoru Aquatic Centre and Minoru Arenas
Features: Kilgour Park
McLennan
Elementary School: Anderson Elementary School, DeBeck Elementary School, Kingswood Elementary School
High School: MacNeill Secondary School or Matthew McNair Secondary
Recreation Centre: Cambia Community Centre
Features: Garden City Greenway
McLennan North
Elementary School: Anderson Elementary School
High School: MacNeill Secondary School or R.C. Palmer Secondary School
Recreation Centre: City Centre Community Centre
Features: Garden City Park, Garden City Bike Park, Paulik Neighbourhood Park
McNair
Elementary School: T. Kidd Elementary School
High School: Matthew McNair Secondary
Recreation Centre: South Arm Community Centre & Outdoor Pool
Features: Kidd Neighbourhood School Park
Quilchena
Elementary School: Quilchena Elementary School or R.M. Grauer Elementary
High School: Hugh Boyd Secondary or Burnett Secondary School
Recreation Centre: Thompson Community Centre
Features: Quilchena Neighbourhood School Park
Riverdale
Elementary School: James Thompson Elementary School & Archibald Blair Elementary School
High School: Burnett Secondary School
Recreation Centre: Thompson Community Centre and The Oval
Features: Thompson Neighourhood Park
Saunders
Elementary School: Walter Lee Elementary
High School: McRoberts Secondary School or Matthew McNair Secondary
Recreation Centre: South Arm Community Centre & Outdoor Pool
Features: Rideau Park
Sea Island
Elementary School: Sea Island Elementary
High School: Richmond Secondary School
Recreation Centre: Sea Island Community Centre and The Oval
Features: Larry Berg Flight Path Park, McArthurGlen Designer Outlet, Vancouver Airport, McDonald Beach Park, Iona Beach Regional Park, Skytrain: Templeton, Sea Island Centre & YVR Airport, Easy Access to Vancouver via Arthur Laing Bridge, BCIT Aerospace Technology Campus, Pacific Autism Family Network, RE/MAX Westcoast
Seafair
Elementary School: Gilmore Elementary School & Alfred B. Dixon Elementary
High School: Hugh Boyd Secondary
Recreation Centre: West Richmond Community Centre
Features: Seafair Shopping Centre, Gilmore Neighbourhood School Park
South Arm
Elementary School: William Bridge Elementary or James Whiteside Elementary
High School: McRoberts Secondary School
Recreation Centre: South Arm Community Centre & Outdoor Pool
Features: South Arm / Whiteside Neighbourhood School Park
Steveston North
Elementary School: Manoah Steves Elementary, John G. Diefenbaker Elementary or James McKinney Elementary School
High School: Hugh Boyd Secondary or Steveston-London Secondary School
Recreation Centre: Steveston Community Centre & Outdoor Pool
Features: Minato Shopping Village, Steves Neighbourhood School Park
Steveston South
Elementary School: Tomekichi Homma Elementary or Westwind Elementary
High School: McMath Secondary School
Recreation Centre: Steveston Community Centre & Outdoor Pool
Features: Britannia Heritage Shipyard Park, Steveston Community Park, Steveston Interurban Tram, Steveston Museum, Tourism Richmond Visitors Centre
Steveston Village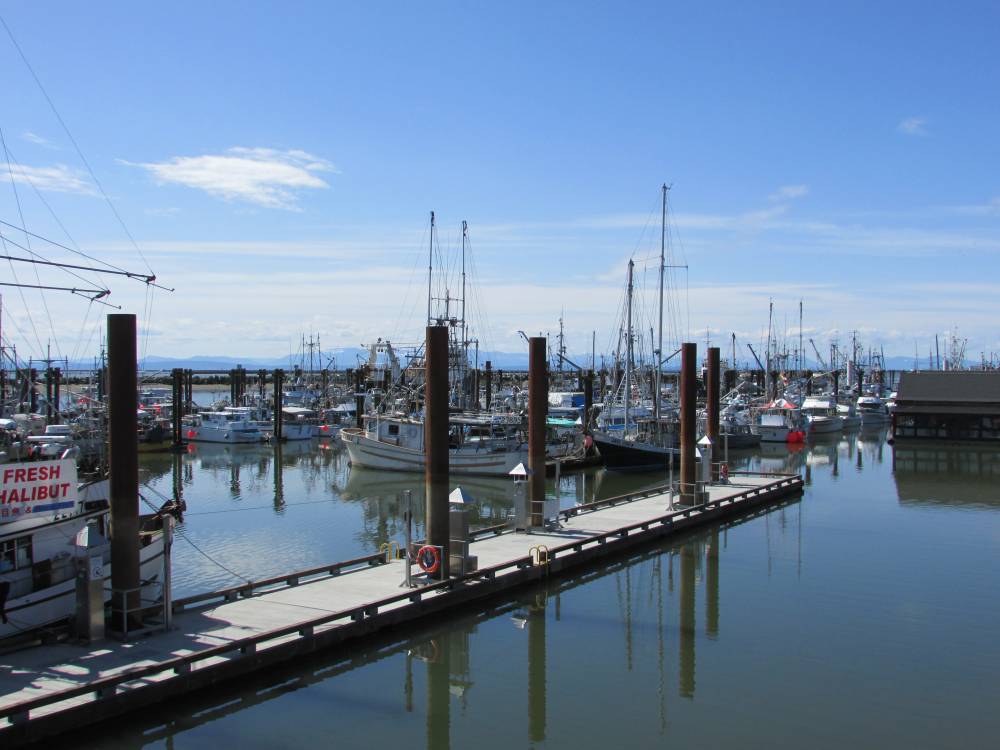 Elementary School: Lord Byng Elementary School
High School: McMath Secondary School
Recreation Centre: Steveston Community Centre & Outdoor Pool
Features: Steveston Village, Garry Point Park, Richmond Public Library, Gulf of Georgia Cannery National Historic Site, Fisherman's Wharf, Whale Watching
Terra Nova
Elementary School: Spul'u'kwuks Elementary School
High School: Burnett Secondary School
Recreation Centre: Thompson Community Centre
Features: Terra Nova Rural Park, Terra Nova Natural Area, West Dyke Recreational Trail, Terra Nova Village
West Cambie
Elementary School: R.C. Talmey Elementary School & Tomsett Elementary School
High School: MacNeill Secondary School
Recreation Centre: Cambie Community Centre
Features: Richmond Nature Park, Lansdowne Mall, Aberdeen Centre, Skytrain: Landsdown & Aberdeen, Central at Garden City, Kwantlen Polytechnic University, Yaohan Centre, Parker Place
Westwind
Elementary School: Westwind Elementary
High School: Steveston-London Secondary School
Recreation Centre: Steveston Community Centre & Outdoor Pool
Features: Westwind Neighbourhood School Park
Woodwards
Elementary School: Blundell Elementary, John T. Errington Elementary or Maple Lane Elementary School, Blundell Centre Shopping
High School: Steveston-London Secondary School
Recreation Centre: Thompson Community Centre and Minoru Aquatic Centre, Minoru Arenas
Features: London Steveston Neighbourhood School Park

SaveSave
SaveSave
SaveSave
SaveSave
SaveSave
SaveSave
SaveSave
SaveSave
SaveSave
SaveSave
SaveSave
SaveSave
SaveSave
SaveSave
SaveSave
SaveSave
SaveSave